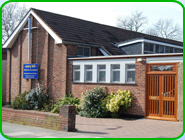 Avery Hill Christian Fellowship Church is a lively and vibrant church and has many activities throughout the week for all ages.
On Sunday mornings we have an informal time of Christian fellowship and a creche is provided for the very young. Our Sunday Club and youth also meet at this time.
Visit our Web site for more information about our church and its activities.